We aim to ensure that non-religious people have the opportunity to access appropriate and effective likeminded pastoral support that is tailored to work for them.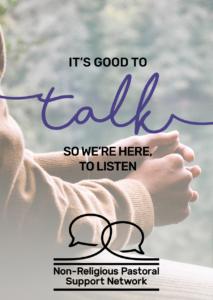 We believe that equality of provision matters. People in need of support should be able to choose to speak to someone who shares their worldview. Until recently, public institutions have looked to people from religious communities to be the sole providers of this kind of service. With over half of British society now identifying as non-religious, we believe it should be a top priority for institutions to increase the number of non-religious carers within pastoral, spiritual and religious care departments, and therefore increase the availability of care in the form people want it across all sectors and services.
Currently, we have volunteers operating in healthcare, prisons, and universities, and we are now looking to expand this offering to the armed forces, residential care homes, the emergency services, and community settings that would benefit from pastoral support services. Our members meet people in an environment where they can feel comfortable, providing an important alternative to religious support.  
Inclusion of non-religious providers in pastoral care teams results in wider service user choice, and better outcomes for the individual, the institution, and the community.
Our Latest Tweets